December 2022 Art Exhibition26 Artists by invitation only

---
The Organiser and provider of public liability is Windsor Artists Collective
The main contact to take part in this and future Brownlow Hall exhibitions is Jonathan Greenyer. 21 Woodside Rd Winkfield Windsor SL4 2DP

07768 513436. jonathan@windsor-artists.org
---
Invited Artists, but please read the following thoroughly. It's to help you and the organisers have a smoothly run event.
WHAT: This is a "by invitation" exhibition of up to 25 great local art producers each able to display up to 10 pieces (max 5 large over 60cm) of art/photos/sculpture and their greeting cards and prints. If you have not been invited to exhibit, contact Jonathan Greenyer first.


SELECTION OF WORK The organisers do not screen or filter work to be exhibited this is your opportunity to present a range of your work, to risk and to impress. We do reserve the right to remove work that may offend a family audience or blatant copyrite infringement. Please note this is not a Craft Fayre!

QUALITY: To ensure your participation in this and any future event, the overall quality of work must be high, finished, tidy, well framed, well executed, well presented, well labelled. Your art should be your best. Good art has a story and a narrative and fully engages the viewer. It is a creative bridge between you the artist and the public. We are trying to elevate the quality of local art offered to the buying public.

WHERE: The Christmas Exhibition is in Brownlow Hall, Newell Green Warfield RG42 6AB. There is plenty of free off-road parking, seating, heating, toilets and the hall is locked and secure overnight.

WHEN IS SET-UP: Advance drop off date. Drop off artwork/craftwork to Brownlow Hall, Newell Green Warfield RG42 6AB on FRIDAY 2nd December BETWEEN 12.00 MIDDAY AND 16.00 We will be hanging all art Saturday morning from 9.00, so you should bring your art and hang it yourself in the space allocated to you before we open at 12.00 midday. Jonathan Greenyer, the organiser has final say on curating/hanging/display . All packing or wrapping materials used by exhibitors can be left in a small side room in the hall.

WHEN IS TAKE-DOWN: Exhibitors remove all their unsold exhibits on Sunday 4th December at 5.00 pm – no earlier. Nothing can be left in the hall on Sunday evening.

HOW MANY PIECES CAN BE EXHIBITED? Individual exhibitors can exhibit up to 10 pieces (max 5 large ie. over 60cm in any dimension) they will be hung/displayed together as close as possible . Please include sizes on the application form. All photos and art to be hung must be framed or on a deep block canvas. You cannot just pin pictures to the display boards like it's a notice board

CARDS AND RACKS AND EASELS: There is space for easels, art/print racks and moderate displays of Art "Greeting" Cards. They will be adjacent to where the artist's pictures are hung wherever possible. All art work in racks must be wrapped in cellophane and individually and clearly labelled to aid the sales process. Tables are available for use, free. You can bring your own small tables. Mains power is available in some locations if required.

COSTS TO EXHIBIT: There is a fee of £25 per exhibitor to exhibit work in this exhibition (payable by funds transfer after the exhibition, you will be sent an invoice/statement net of any revenue from sales)

SALES: When an exhibit is bought customers can take the items away immediately after payment. A bubble wrapping service is provided for free. If we process a sale through our exhibition CARD PAYMENT MACHINE, then you will incur payment handling fees of 5%. Any other payments by cash, cheques or payment direct to an artist are free of this charge. There are no other charges.

MARKETING & PROMOTING THE EXHIBITION: In addition to the organisers' marketing campaigns, we expect exhibitors to promote that they are exhibiting via social media and whatever means possible. You will all receive a media pack including printed A5 flyers near the date of the exhibition. A3 and A4 posters are available on request.


TIPS ON MARKETING YOURSELF AS AN ARTIST Successful artists today need to really "get out there" and undertake a sustained integrated marketing programme that could include email, word of mouth, posters in shops and libraries and on fences etc, printed biographies, A5 handouts/flyers, social media including Instagram, Facebook, LinkIn etc, your own websites, direct invites to prospects and plenty of lively creative noise to promote yourself as an artist and your appearance at this event. Customers interested in your work will find you by one or more of these methods and may then follow your media and attend your exhibitions to meet you in person. It may take a while to secure this level of following but without making the effort how will potential customers ever find you? Do you have business cards to hand out? Is there a printed bio telling the world about YOU? Are your contact details on everything you produce? Want more help marketing? We can provide advice

PICTURE HANGING SYSTEM: We provide two types of hanging systems for your art and photos. The first (Left) is for the walls, it is exhibition grade nylon hanging threads from STAS with adjustable hooks. The second (Right) for the display boards is a chain hanging system. In both cases your framed pictures, box canvases and photos are attached to the nylon threads/chains at the right height via your hanging strings/ wires or D-rings or something similar on the back of your art.

Pictures that have no fitted horizontal hanging strings/rings will not be hung in the exhibition and will be lent against a wall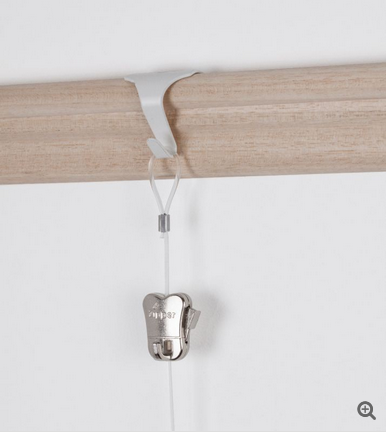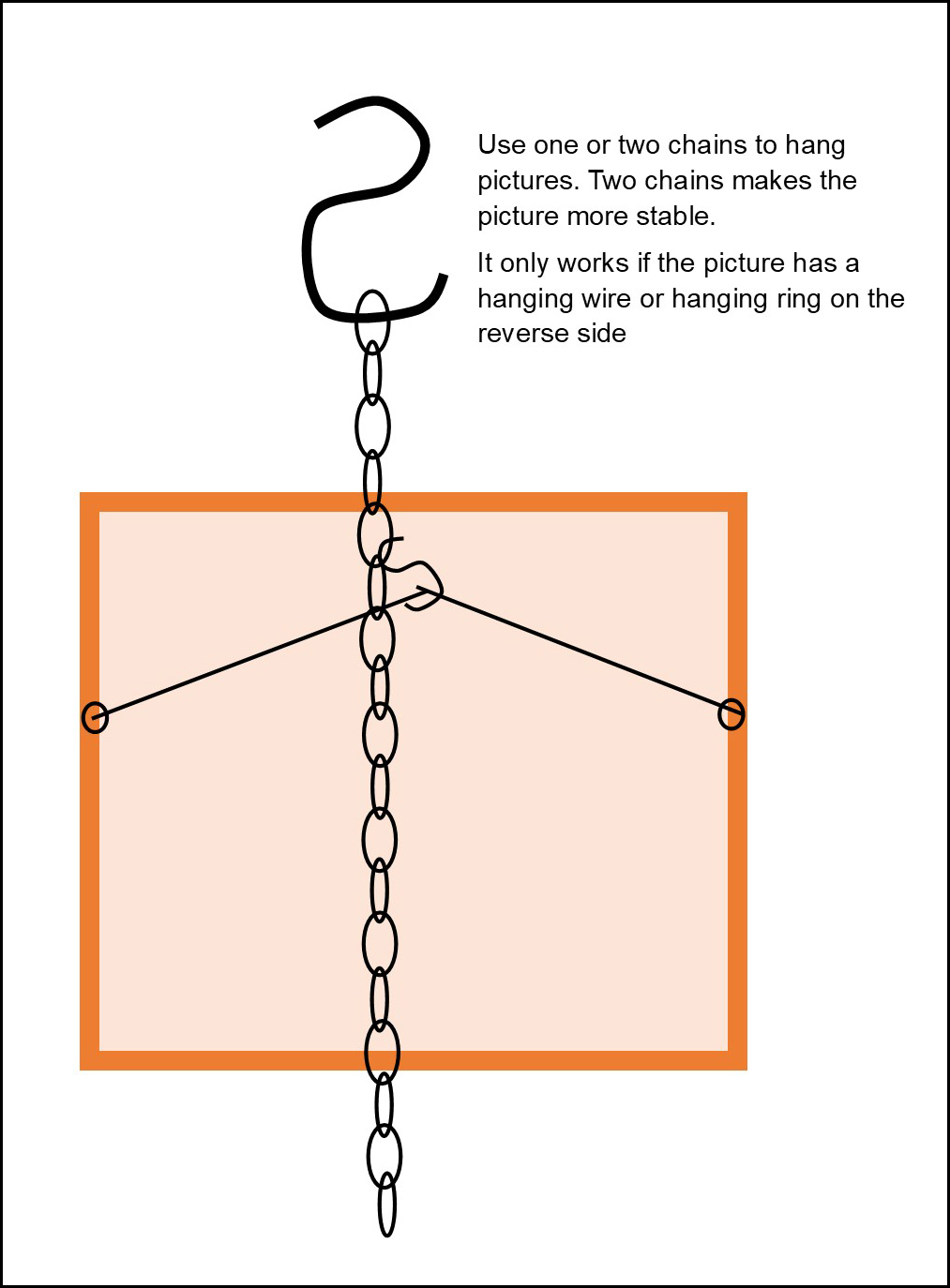 LABELLING: Each craft, photo and painting must be clearly labelled with a label facing frontwards for the public to be able to read. They can be pinned to the display boards or bluetacked to the walls (no blutac on boards at all). This is for the benefit of the curator, the visitors, the stewards and also the admin staff who handle the sale of exhibits during the 2 days of the exhibition. Details on the label must include a) the artist's full name, b) the media used, c) the title, d) a selling price [or Not For Sale] If an exhibit is not properly labelled it will not be included in the exhibition. EXAMPLE OF A TYPICAL ARTWORK LABEL >>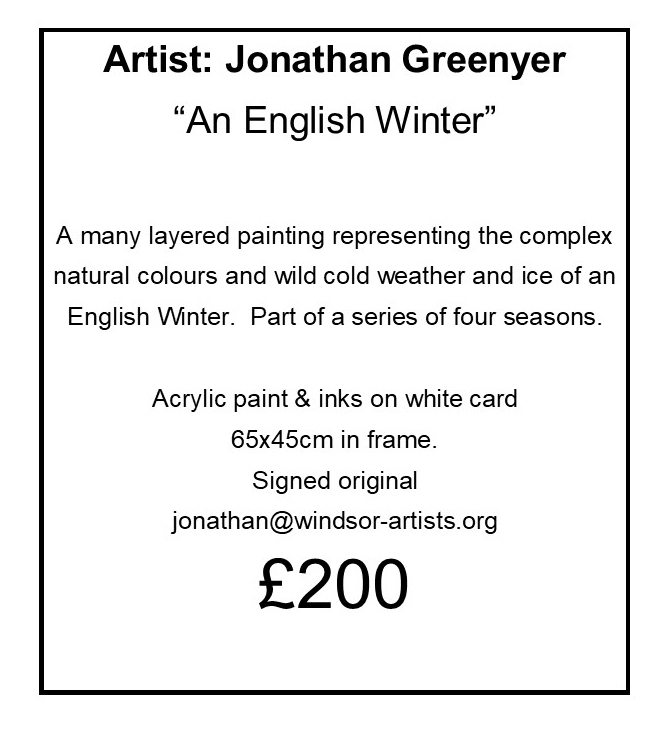 STEWARDING: The public like to meet the artists, and you can convert a view to a sale better than anyone. But, we do not demand that artists are in attendance if it is not convenient for you. But you are welcome anytime. The low low entry fee is because the exhibition runs with minimal overheads, so please volunteer to steward for a couple of hours during the exhibition, we genuinely need enthusiastic stewards to help create the right atmosphere, greet the visitors, explain art to them and bubble wrap art sales.



END OF EXHIBITION: Exhibitors remove all their unsold exhibits on Sunday 4th December at 5.00 pm – please no earlier. and no work can be left in the building afterwards




NOTE: This is a friendly cooperative art exhibition. We organise this and other events to help local artists secure attention and sales and to meet other artists (and the public). All exhibiting artists are expected to help promote and run the event to make it a successful and enjoyable event.