"23@Brownlow Hall"
Exhibition is open to the public 16th & 17th March 2024 from 12.00-5.00pm

Setting the boards and tables out in the hall is undertaken by a small team of volunteers on Friday between 9.00pm & 10.30pm after the Girl Guides have left Brownlow Hall

Hanging your own art is on Saturday morning 16th March from 9.00 to 11.00am No later

Taking down your art is 5.00pm on Sunday 17th March

Fees are £35
---
EXHIBITION ADVICE FOR EXHIBITING ARTISTS:

The Organiser and provider of employee and public liability at this exhibition is Windsor Artists Collective. The main contact to take part in this and future Brownlow Hall exhibitions is Jonathan Greenyer. 21 Woodside Rd Winkfield Windsor SL4 2DP 07768 513436. jonathan@windsor-artists.org
There is no insurance for loss, damage or theft of individual artwork due to the administrative impossibility of valuing your art to the satisfaction of an insurance company

---
WHAT TYPE OF EXHIBITION IS IT? This is an exhibition of 23 invited artists who produce original art/photos/sculpture etc from the area local to Windsor/Bracknell (England). Artists are allocated a display space roughly 5 metres wide and 2 metres high plus tables to show off their latest and best work. Artists are expected to attend at some time during the exhibition to help with stewarding, meeeting the public and bubblewrapping, but artists do not have to be in attendance throughout.

EXHIBITION ADDRESS? The Exhibition is in Brownlow Hall, Newell Green Warfield RG42 6AB. An easy access venue with plenty of free off-road parking immediately behind the Hall, comfy seating, refreshments, heating, toilets and the hall is locked and secure overnight.

COST TO EXHIBIT? There is an attendance fee of £35 per exhibitor to exhibit any work in this exhibition. This £35 is payable by funds transfer after the exhibition, when you will be sent an invoice/statement net of any revenue received from sales of your work during the exhibition. Credit and Debit Card sales incur a 5% handling fee. No other commission is charged

HOW MUCH DISPLAY SPACE PER ARTIST? You will be sent a layout of Brownlow Hall with you exact exhibition space marked clearly. Exhibitors are allocated a display board space OR a length of wall/picture rails approximately 5 metres long and 2 metres high. (similar to these pictured below) plus a table if requested. Within the boundaries of this space, you can hang as many or few pieces of framed art/photos or box canvases as looks right without it being overcrowded or a mess. It is your shop window, so display well. The organisers will work with you to make the best display possible.
You can bring additional work and store it in your car, to replace any items sold.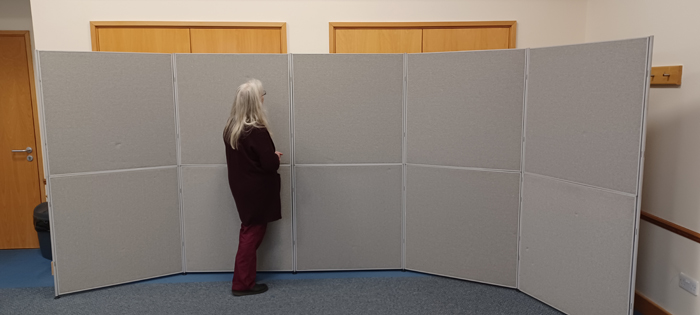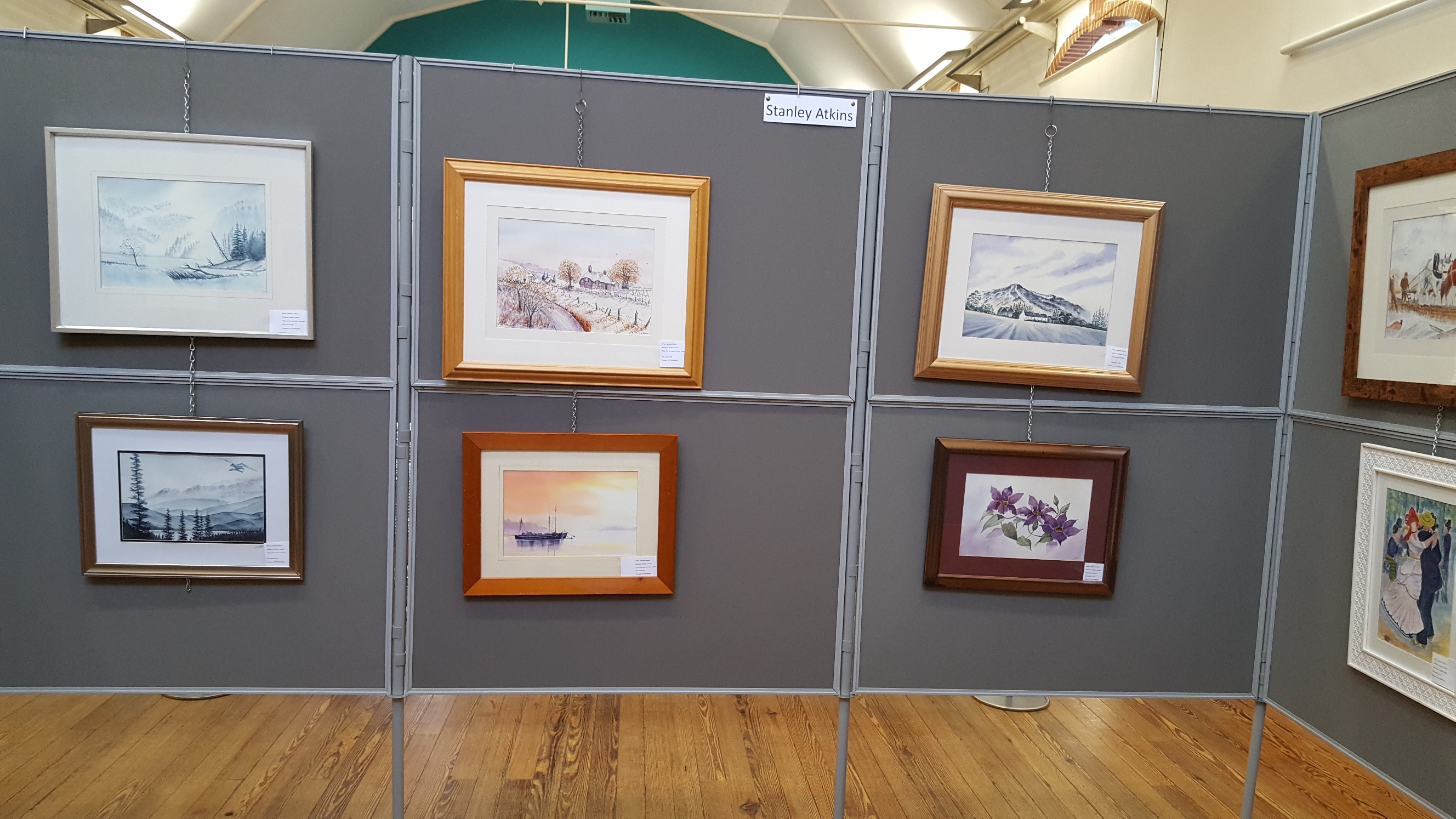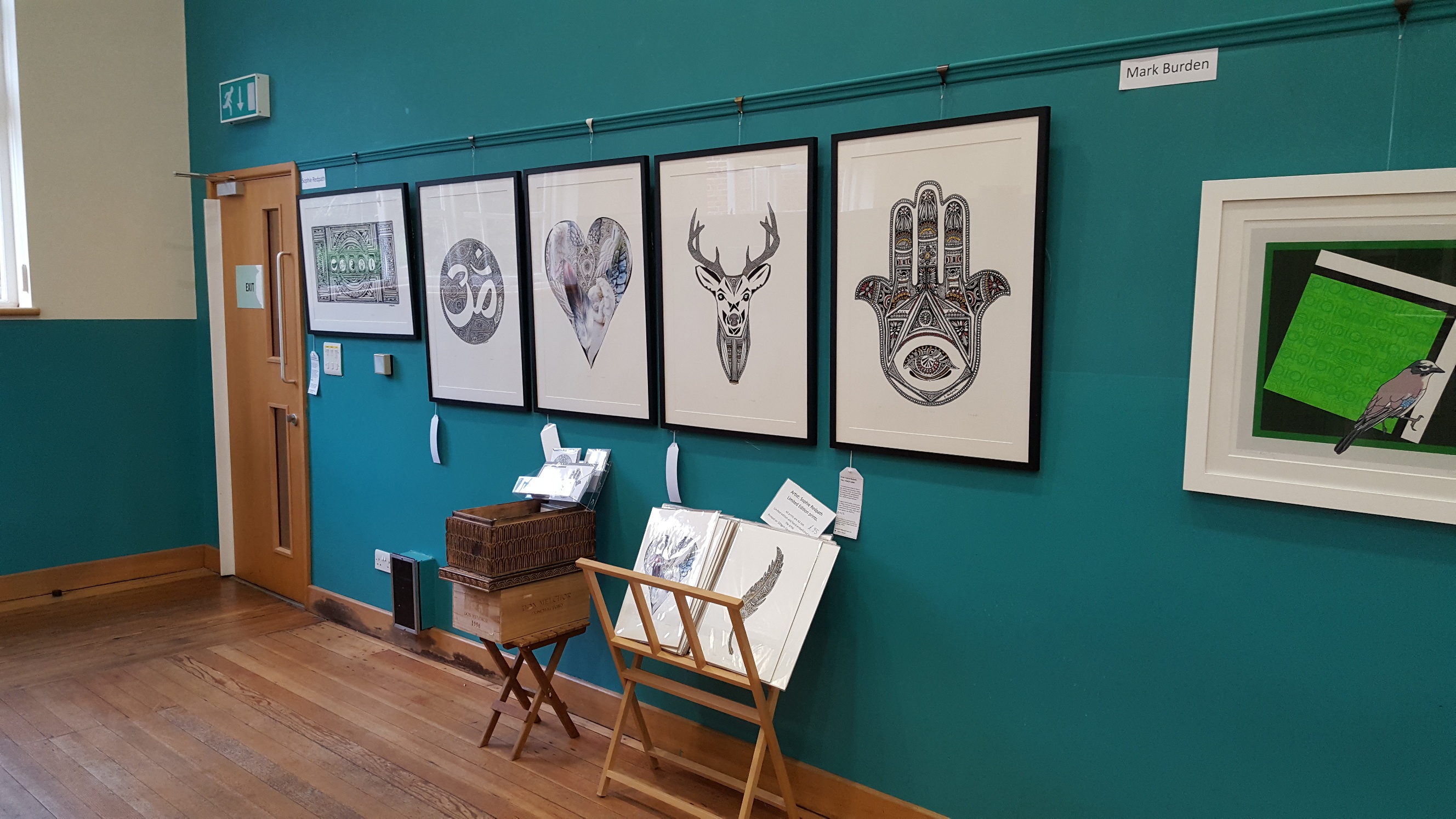 HOW IS YOUR ART SELECTED? You, the artist chose your own exhibition portfolio and you can hang framed art or box canvases and prints (see note below). There is no Hanging Committee, no Selection Panel - you chose what represents you and your oeuvre best. You can hang originals, prints or artist embellished prints (suitably labelled). The overall creative quality of your work must be high and well finished, well framed, well presented, well labelled and of course well laid out within the space provided.

This is your opportunity to present a wide range of your work and take risks to impress. We recommend you display art in a range of prices, sizes and media to match the varied tastes of the consumers. Greeting cards act as profitable, colourful "business cards" and can often lead to future sales or commissions. Prints sell well especially if the original is also on display at a much higher price. All prints must be marked as "Prints" or "Limited Edition Prints" or "Lithographic Prints" or "Hand Embellished Prints" etc. etc. We will remove work that may offend a family audience, or manifests blatant copyright infringement.

PRICING GUIDANCE You chose the prices for your art but we will help and advise you if requested. The majority of original artwork sold will be under £200. 10% will be over that and the maximum is around £750. So, display your higher price art to demonstrate your artistic skills and the quality of your offer and also feature other prices to sell in volume. The buyers for all price ranges are attending our exhibitions.

CARDS, RACKS AND EASELS: Yes as long as you keep corridors free. Exhibitors are provided with tables for FREE, and you can bring your own if you want a particular size of table. There is space for your own easels, art/print racks/browsers and displays of "Greeting" Cards. All unframed artwork in racks or flat on tables must be wrapped in cellophane and individually and clearly labelled to aid the sales process and marked as"orginal" or "Print" or "Limited Edition Print" or "Hand Embellished Print" etc. i.e. something truthful and informative. No jewellery, nick-nacks etc because this is not a craft fayre

240V POWER: Mains power is available in some on-wall exhibiting spaces, ask in advance. Only PAT tested mains equipment is allowed. Battery operated lights are always welcome.

ART HANGING/SET-UP TIME? You are allocated a space, you will be sent a layout in advance, and you the Artists hang your own work, or you make arrangements with someone to do it for you. The organisers will not hang your work, but we can provide an artist Mentor to help and advise you. Please ask. Hanging time is on Saturday morning 9.00-11.00 All packing or wrapping materials should be taken home.

TAKE-DOWN?: Exhibitors remove all their unsold exhibits on Sunday 17th March 2024 at 5.00 pm – no earlier. Nothing can be left in the hall on Sunday evening.

HOW ARE SALES HANDLED DURING THE EXHIBITION? We provide a central sales point to take cash or credit/debit card payments. We accept VISA, MASTERCARD, AMEX and APPLEPAY. When an exhibit is bought, customers can take the items away immediately after payment and bubble wrapping (a free service).
  1) If we process an art sale through the exhibition SUMUP CARD PAYMENT MACHINE, then you (the exhibitor) will incur payment handling fees of 5% of the sales value.
  2) If the payment is cash we note the sale, and hand the cash to the artist immediately you turn up. Cash sales incurr no financial handling fee.
  3) If you take payment yourself by any means, the sale is still recorded centrally to monitor the success of the exhibition but no financial handling fee is charged
  4) There are no other Sales Commissions charged

SHIPPING FOR CUSTOMERS: If customers ask to ship art, and you are willing to ship your art to the customer's address, then the customer pays for the art in full there and then and subsequently you the artist negotiate and charge shipping costs and fulfil the shipping.

HOW ARE PICTURES HUNG? YOU THE ARTIST HANG YOUR OWN WORK. Firstly screws, nails, staple guns or any destructive fixing systems are forboidden absolutely. We provide you free of charge all the hanging systems you will require - all you have to do is ensure your art has hanging "strings" or D-Rings on the back. No D-Rings or Strings and your art can not be hung. You cannot pin unframed art to the display boards as if it were a notice board. You can ask for assistance or advice, we will provide an artist Mentor to help you hang your work
  Hanging Method 1) The first is for the picture rails (Left Picture below) it is exhibition grade nylon hanging threads (called perlons) from a company called STAS featuring adjustable height hanging hooks. You must not cut or trim these nylon Perlons they are expensive and reusable at future exhibitions
  Hanging Method 2) The second for the boards (Right picture below) is a chain hanging system with small hooks for your art. In both cases you can hang two or more pieces of art per cord/chain at different heights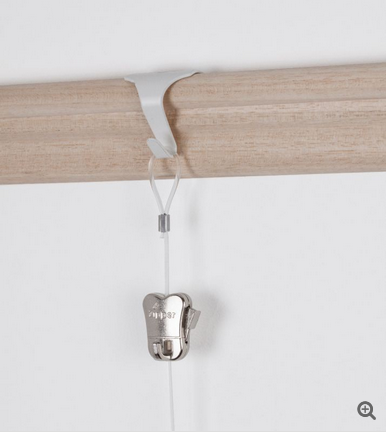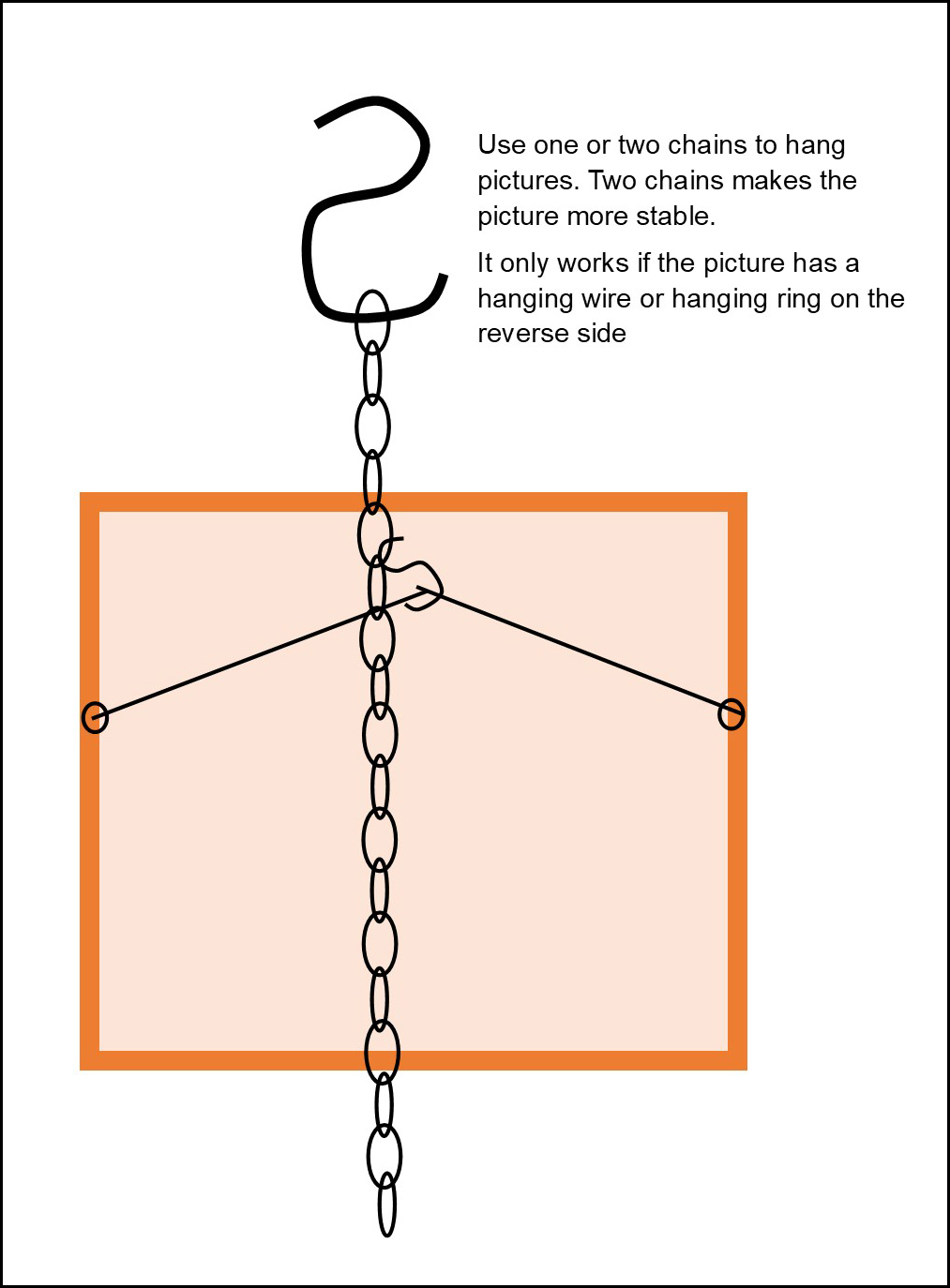 LABELLING YOUR ART Every single piece of art, craft, photo or greeting card must be clearly and individually labelled. For hanging art the label will be attached to the boards by pins or velcro or the wall by Blue Tac it must be visible and legible so the visitors can read it!!! If you are selling cards they must carry your name and the unit price, so the Cashier can sell it at the correct price. No price label, no sale.

Details on the label for hanging work should at the very least include a) the artist's full name, b) the media used, c) the title, d) a selling price e) Is it an orginal or a print. If an exhibit is not properly labelled it will not be easily sold!! .

EXAMPLE OF A TYPICAL ARTWORK LABEL >>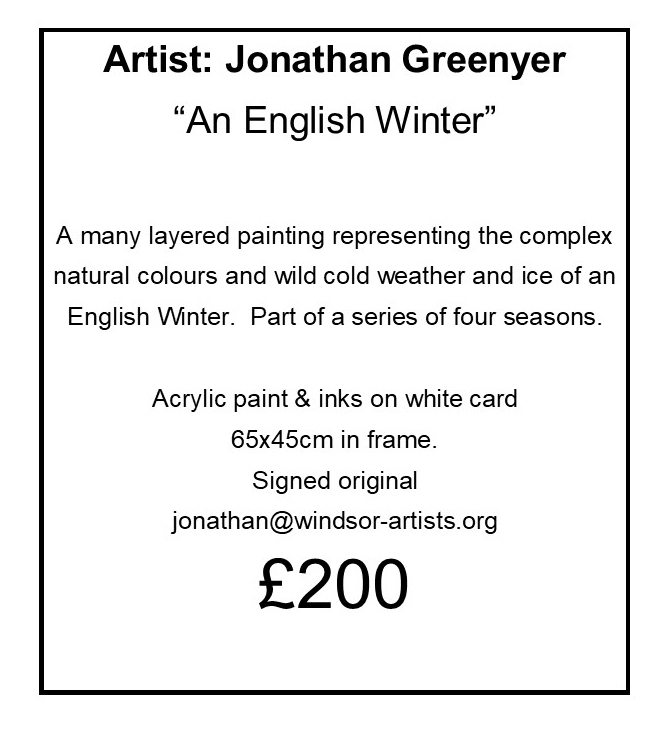 STEWARDING ? We have a paid member of staff to run the cafe area at all times. But all other duties are handled by the artists throughout the exhibition. This is how we keep costs down. Artists meet & greet the public, upsell the art, help close sales, bubble wrap purchases. The public like to meet the artists, and you can convert a view to a sale better than anyone. If you cannot attend at all over the two days then please do ask to exhibit as I there are plenty of artists willing to take your space..



MARKETING & PROMOTING THE EXHIBITION: In addition to the organisers' own marketing campaigns for this and all exhibitions, we expect all exhibitors to promote that they are exhibiting via social media and whatever other means possible. You will all be sent by post a media pack including printed A5 flyers and A3 / A4 posters (available on request)

TIPS ON MARKETING FOR THE ARTIST EXHIBITORS Successful artists today need to undertake a sustained marketing programme to back up what the organisers do. This could include email, word of mouth, posters in shops, libraries and fences etc, printed biographies, distributing A5 handouts/flyers, utilising social media, Instagram, Facebook, LinkedIn etc, maybe your own websites, direct invites to prospects and plenty of lively creative noise to promote yourself as an artist and your appearance at this event. Customers interested in your work will find you by one or more of these methods and may then follow you and attend your exhibitions to meet you in person. It may take a while to secure this level of following but without making the effort how will potential customers ever find you? Do you have business cards to hand out? Is there a printed bio telling the world about YOU? Are your contact details on everything you produce? Want more help marketing? We can provide advice




NOTE: This is a friendly collaberative art exhibition. Apart from our cafe expert running the cafe area all other aspects of the exhibition are undertaken by the artists and their friends/family. That is in part how we keep costs down. There are no paid labourers or fitters, no expensive PR or advertising executives; we do everything ourselves as a team. If that doesn't suit you then you are really going to miss out on a great opportunity with us.